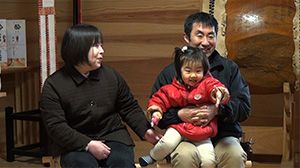 Yuichi Yonezawa from Rikuzentakata
The family took a photo on the morning of March 11, 2011 to bless the birth of Yuichi Yonezawa's daughter. Three hours later, Yuichi's parents died when the tsunami engulfed the emergency center where they were taking refuge. Yuichi escaped death by just a few centimeters when the tsunami swept over his three-floor building. Today, Yuichi is determined to preserve his building as a reminder of their pre-disaster lives.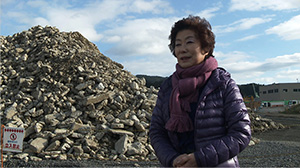 Fumiko Sugawara from Kesennuma
Fumiko Sugawara owned a liquor store in "Seagull Street," near the port of Kesennuma. Her husband's hand was wrenched from her grip when he was engulfed by the tsunami. His remains were miraculously discovered later in the shadow of the symbolic giant fishing trawler, stranded inland near Seagull Street. All traces of the giant trawler and the street are now gone. All traces of the giant trawler and the street are now gone.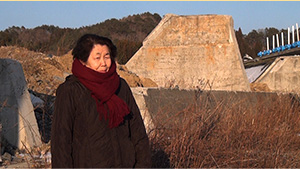 Miya Matsumoto from Taro, Miyako
Tsunami featured strongly in Miya Matsumoto's life. She was just three months old when the 1933 giant tsunami hit. During Miya's childhood, an iconic tsunami barrier was constructed and often compared to the Great Wall of China. Miya believed the two tsunami walls protecting her town were the pride of Japan. Now, Miya insists that, "If a tsunami comes, just run. Don't stay and fight it. Just escape and save yourself."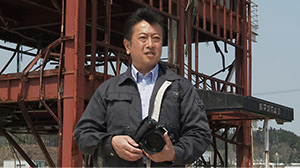 Shinichi Sato from Minamisanriku
The roof of the Public Disaster Prevention Office in Minamisanriku became the stage for a terrible tragedy when office workers taking refuge there were engulfed by the unexpectedly powerful tsunami. Shinichi Sato reluctantly captured the whole terrible event on camera. The shocking photographs are renowned worldwide as a definitive record of the tsunami's rampant force, but today Shinichi is focusing on images that promote hope for the town and the future.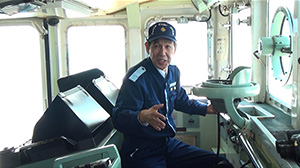 The Kitakami patrol boat for the port of Kamaishi
The port of Kamaishi, an industrial city, was protected by a tsunami barrier that took decades to construct, and featured in the Guinness Book of Records. The Kitakami patrol boat raced out of the port just after the earthquake struck and felt the full force of the tsunami before it hit the shore. As the tsunami barrier crumbles before the crew's eyes, the captain and helmsman provide rare real-time testimony of a tsunami's terrifying force on the open sea.